Random! →
Invite a friend (or invite many)
New feature today on unvlog: You can now show off your videos by inviting your contacts from Hotmail, Gmail, or Yahoo: Invite your friends!
2 tags
acts_as_unvlogable: One plugin to rule them all
We are proud to announce our acts_as_unvlogable, a ruby on rails plugin that allows you easily get the title, thumbnail and embed code from video services such as youtube, vimeo, metacafe… The only thing you need to know is the video URL. Let's see an example: To insert this video into this post the application needs to know the video title, the correct way to embed the video, the thumbnail… ...
Something in common with Scarlett
It was already surprising when our friend esmuz told us that Unvlog was to be featured on Glamour magazine's latest issue, but you should have seen our faces when we knew Scarlett Johansson was on the cover, and not because it gets us even closer to Kevin Bacon!!
MTV Music, MarcaTV and Qik, welcome aboard!
We are glad to announce the support for 3 new video services: cutting-edge music videos from MTV Music, sport highlights from Spanish best selling newspaper Marca.tv and wicked mobile videos from Qik are now part of the unvlog.com family.  Hope you will all enjoy watching and sharing all this new content as much as we do.
Interview: alzado.org
The nice people at Alzado have published an interview of us today. http://www.alzado.org/articulo.php?id_art=751 The article is in Spanish, but Google does a good job translating it.
Twitt your videos away
We've added some more stuff to "your stuff". Head over to your goodies page (right next to your profile) and set up your vlog to send updates to twitter everytime you post a video. Easy. You will also find the widget showing your latest video, which you can put on your blog, myspace, etc, and the superuseful bookmarklet link for posting videos directly from any website.
1000 unvloggers
Nice one today: meet  http://unvlog.com/thegirlinthedirtyshirt, our 1000th user :) 
More videos like this one, please
Unvlog.com is about your friends showing you what they're watching, but sometimes their videos are so good you end up wanting more. With this in mind, we released yesterday the "related videos" feature: it still puts emphasis on the person who posted the video while gives you an extra dish.
Hello English!
Last Friday, the English version of unvlog.com was silently released. We are now more than happy of making it official through this post. It's been a looong way getting the whole site internationalized and then translating all the texts: we wanted the English version to keep the soul of the original one, and we're pretty happy with the results. Luckily we got help from Irene with the...
Fiesta means party
So, finally… tonight is the night. We're having a party! We are sure it's going to be a great success, but before it happens, we'd like to thank everyone that has helped us out with the event, specially those who crafted videos to announce it. http://unvlog.com/isabl + http://unvlog.com/xurde http://unvlog.com/gorriti http://unvlog.com/misscalamar And,...
New features and a bit of redesign
Hi all,  As some of you have noticed, we've done a bit of redesign on the video tools, so you'll now see these nice chunky icons underneath your videos: We're also adding new features, probably the most useful being the ability of private messaging other users: just head over to their profile page, and look for the contact link: Hope you enjoy these new little things!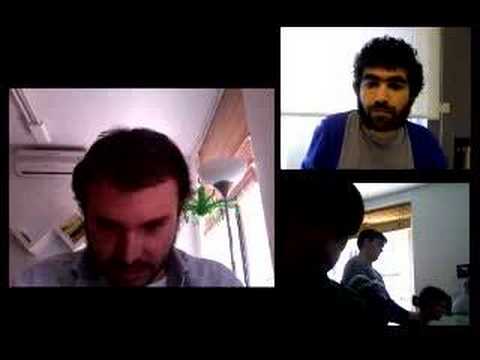 New blog!
We'll start posting soon.